Online Arizona Real Estate School
Instant Enrollment | Start Your Training Right Away | Finish In As Little As 14 Days!
Sale! Save 31% On Arizona Silver & Gold Plans. Expires 01/24/22 At 11:59pm AZ Time. Checkout Promo Code: ARIZONA!
Basic Plan
$379
(Promo Code Applies To Silver & Gold Plans)
90 Hr Online Salesperson Course
Silver Plan


$579
$399.51

(With Promo Code: ARIZONA!)
90 Hr Online Salesperson Course
Additional Comprehension Checks
Bonus! Study Material Documents
Gold Plan


$679

$468.51
(With Promo Code: ARIZONA!)
90 Hr Online Salesperson Course
Pre-Recorded Tutoring Videos
Additional Comprehension Checks
Bonus! Study Material Documents
Bonus! Study Material Videos
**Live Virtual Group Tutoring
10 Steps To Passing Guide
*Our State required 6-Hour Contract Writing Course is 100% online and on demand.
**A live 3 hour group tutoring session with an active real estate instructor. Course includes major testing topics and plenty of time for live Q&A.
See How Our Learning System Works
Tour Our Online Salesperson Course
Maricopa County Ranked #1 In Population Growth In The US
Median Home Price Is Over $300,000 In Maricopa County
Average Real Estate Commission Is Between 5-6% Nationwide
Over 200 People Moving To Arizona Per Day!
*References At Bottom Of Page
What Are You Waiting For? Get Your License Today! Or Someone Else Will Get That Sale…
How To Get Your Arizona Real Estate License Online From Start To Finish
We're glad you're interested in getting your AZ Salesperson's License with us!
Here's how to get your real estate license in Arizona.
Complete All 90 Hours Of Instruction Online
*This course is self-paced and may be completed in as little as 9 days!
Complete The 6 Hour Contract Writing Course
*This course is now offered as an online/self paced class and included with the Silver & Gold Plans.
Pass Your School Exam (State Required)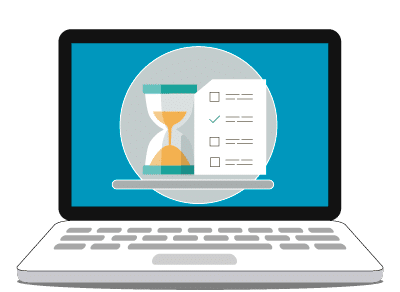 *Mimics the official test and acts as a gauge to determine your readiness. You will receive 2 attempts. If you do not pass, you will be issued additional study materials and a final 3rd exam attempt.
Pass The Pearson Vue® Real Estate Exam (Offical Exam)
*This is the official exam and must be taken in person at an official testling location. You can find a list of testing locations on Pearson Vue's website.
Find A Brokerage to Work For
*Before you "activate" your license, you must have a designated broker in Arizona that will allow you to work under their brokerage. This is an Arizona law and is commonly referred to as "hanging your license". Simply put, all real estate agent salespersons must work for a broker. They cannot handle transactions legally without one.. Therefore, the state wants you to make this arrangement and prove it prior to becoming an active agent.
With Arizona real estate booming, there is no shortage of brokerages to choose from.
Activate Your License With The Arizona Department Of Real Estate!
*Finally, you will contact the Arizona Department Of Real Estate to activate your license!
This is a simplified synopsis of the process to obtain your Arizona Real Estate Salesperson License. There are also certain eligibility and finger print requirements to become a real estate agent. You may view a complete list of requirements on ADRE's website.
Why Choose American Realty Academy?
American Realty Academy is proud to host Arizona real estate license classes that don't just help you pass the test, but also prepare you for the real world or real estate. Our instructors are all active real estate brokers eager to share their past experiences (both good and bad) in Arizona real estate transactions. We want to make sure that no student feels left behind and no question goes unanswered. At American Realty Academy, you aren't just a number, you're our guest and our instructors, administrators, and owners look forward to getting to know you on a first-name basis. Learn more about How To Become A Real Estate Agent In Arizona.
We are a fully approved and accredited Arizona real estate school by the Arizona Department Of Real Estate. See for yourself by checking ADRE's website here https://services.azre.gov/publicdatabase/SearchSchools.aspx just search for "American Realty Academy"
ADRE School# S18-0001
With Arizona Local Instructors. Why Would You Go Anywhere Else?
You get out of any course what you put into it. There are a lot of concepts and terms in real estate. A lot of the material will be new to you, and it is not intrinsic, so study and repetition is imperative. It's just a lot for the brain to take in. The material is all there. When I had questions, Jeff answered them. He was great to work with. Bottom line--American Realty Academy has everything you need to pass the Pearson Vue exam and is a good value, but you have to put in the work. It won't happen overnight. Take Jeff's suggestions on how to study. Watch the videos, and take notes. I personally went through the course twice. The second time through, everything clicked. It prepared me for the course exam, and I passed the state exam on the first attempt.
I had a great experience with American Realty Academy! The course taught me a lot about the required information, and the instructor, Jeff, thoroughly answered all of the plethora of questions I had.
It is true everything you need to pass the real estate exam is provided. I highly recommend in addition to going through the course that you read the online book, review the concept questions, retake the quizzes, review the vocabulary, and watch the videos while taking your own notes as needed. Testing your knowledge is key.
ARA and Jeff (main instructor) are fantastic! Jeff has a way of knowing what you need to know and is really what makes this work. Affordable and full value!
I'm so grateful that American Realty Academy offered an all online Real-State Salesperson pre-licensure course! Although a recent reversion to the original A.R.S. required us to take the final exam in person, I'm glad I did because it helped me to focus more. I loved Jeff's energy and passion for his profession and the fact that he kept it real! The videos at the end of each session were especially helpful. Thank you ARA for providing a wonderful experience!
Great instructor, material and easy online navigation. I was able to pass my school exam and the Pearson Vue exam two weeks later, all on the first attempt. My questions were answered quickly via email while studying online and still working full-time over the last few months. I couldn't ask for more. I greatly appreciate Mr. Davis for the positivity and all the materials and instruction the school provided! Highly recommend!Todd
American Realty Academy was a wonderful online experience and I highly recommend it to anyone interested in obtaining their real estate license. The course was very self explanatory and the staff was very fast to respond. The information was straight forward and right to the point so it was easy to quickly learn and pass the exams. 10/10 and would definitely do it again.
I took my real estate salesperson class at American Realty Academy, and that was a very good decision I took. I attended the live classes of Jeff as well, and I must say Jeff is a very good tutor. He clears the concept very well.
I started my online classes with American Realty Academy in June and I'm now passing my state Exam, it was a lot to learn but the format and organization of the classes were very helpful, between the videos at the end of each module along with the questions and the flash cards, they are truly trying to make sure you have all the tools to become a successful and competent Real Estate Agent.Every time I had a question and called I had a quick answer, the instructor Jeff is very mindful and knowledgeable. I recommend American Realty Academy to anyone who is looking to get their real estate license with a school that is truly dedicated to make their students succeed and prosper.
I definitely recommend this realty school. The lesson modules, book, and the videos helped to thoroughly explain the material. My only issue was that there is a good amount of misspellings in the book. Hopefully they can fix that. The staff and instructor were always great about returning calls and answering e-mails. Thank you for helping me advance the pursuit of a new career!
Great school! The Real Estate pre-licensing course is well explained and easy to understand. The staff is attentive to the emails regarding course questions or any other questions. I personally had a pleasant experience with American Realty Academy. Thank you!
I had such a great experience with my studies here. I would have LOVED to attend class in person, but Covid shut that dream down. The material was self paced and easy to understand. The videos were extra helpful! I stuck to the material and resources and did not use any other resources as instructed by Jeff. Honestly, there was no need to. If I had a question, I was able to email the instructor and get an answer fairly quickly.This program works! I felt completely prepared and confident going into each exam. Listen to Jeff! He won't steer you in the wrong direction. The study session led by him was EXTREMELY helpful. He was very honest about the exam and prepared the group for the type of questions on the exam and how they are designed/worded. His humor also made learning so much fun (another reason I would have loved to attend class in person). He is a wealth of knowledge and knows what he is talking about!!I passed the school and state exam the first time around. When in line for the state exam, I encountered a few people that we retaking the Pierson Vue exam. They had also explained to me that they had to take their school's exam multiple times. Now, I completely understand that everyone's comfort level with tests are different....BUT both of the individuals I spoke with attended the same school (which I will not name, just know it wasn't American Realty Academy). Now that I am working as a licensed Realtor, I have spoken to many other students of the school that the individuals I met attended....and they have all had similar experiences with the same school. Multiple exams and needing to use outside resources to understand the material. Test taking can be highly emotional, so I could imagine it being hard on one's confidence to have to retake exams (both school and state) multiple times.All in all, it makes me even happier that I chose American Realty Academy to study at and will continue to highly recommend the school. They really do prepare you for the exam itself as well as a little insight to life as a Realtor.So if you're looking for a school to prepare you to get in, get out, and get to your goal of obtaining your real estate license, look no further!
The realtor course was super informative and Jeff Davis is a great teacher. After already going through 3 home purchases in the past 5 years, I was very familiar with lots of the topics but still learned a tremendous amount of information.. Took me 10 days to take all the lessons, couple days to study & pass the school exam and then a few more days to study & pass the Puerson Vue exam on the first try! Would definitely recommend American Realty Academy!
I am so happy with this course. After taking the american business and realestate academy and feeling frustrated i enrolled in this course. The main teacher jeff is incredibly knowledgeable and clearly articulates the information. He and the staff awnser your questions along the way. The material is easy to work through while giving you the knowledge you need. I recommend getting the gold level package. Thank you!
My experience with the school was overall excellent. The videos they offer by Jeff Davis, Are well taught easy to understand. When I needed any additional help, the school was more than willing to offer it. I was able to pass the school test on the first try and the state exam on the first try. My family and I are truly grateful for the help we received. Being able to have a career that will provide for my family is of great peace of mind for me.
I just finished the Prelicensing Education Course with American Realty Academy yesterday. I finished the course in about 10 days and I passed my school final exam in the very first attempt. The material was easy to understand. The instructor, Jeffrey, was very knowledgable, professional and did a great job of explaining the content in ways that made it really easy to remember. I would highly recommend this real estate school for anyone looking to get their AZ real estate education. I am extremely happy with my experience. I'm taking my state licensing exam in a few weeks and feel very confident in being prepared to take & pass the test. Thank you American Realty Academy!
Instructor is awesome! I'm loving this course!
Above and beyond my expectations!! When I had an issue with something Jeff was more than willing to accommodate me. Top notch!!! Highly recommend.
Best class I've had in years. Jeff was hilarious! Kept us laughing for 6 straight hours and learned a ton! Thank you
Jeff is AMAZING! He was so helpful and available during these crazy times. It took me a while to finish the course because I was working full time as a full time student and then corona happened. Jeff reassured me and was very helpful the whole way, I never felt hesitant to reach out to him because he's a genuine person. Thank you so much!As far as the course I took it online, it's easy to navigate and the way it's set up makes it easy to study. The practice test at the end of each chapter are a MUST DO to help with the exams!
Excellent instructor, learned a lot!!!
Very helpful!!! Loved Jeff
Jeff is a great guy. It don't get any better
Great Course. Took it ALL online. Had school exam proctored by a neighbor due to covid-19 and went on to PearsonVue to pass state exam the first time. Nothing took me by surprise. Any issue or question was promptly addressed and answered via email. Thanks Jeff. I'm now a proud agent over at Keller Williams Legacy One in Chandler! Just signed on Wednesday and looking forward to an outstanding career in Real Estate God willing.
Jeff did a great job reviewing and explaining the very important factors associated with real estate contract writing. I was surprised to see how in depth and extensive the forms and procedures are that's needed to transact the buying/selling of real estate in AZ. Jeff's presentation and coverage was casual, folksy, and with a bit of humor...all appreciated! Great job Jeff and thank you!
Jeff was very knowledgeable, experienced and shared many real life examples to make a point throughout the class. His sense of humor kept students engaged for the entire day. I would highly recommend this company and the instructor.
Took the Contract Writing Course online taught by Jeff and it was excellent. Jeff made the class fun, engaging, and packed full of information that is truly going to be useful for anyone entering the real estate business. So glad I chose this school! Thank you Jeff!!
Very good online class setting. Information was straight to the point and Mr. Davis would also answer my questions in a prompt and precise manner. Would definitely recommend if you're looking to get your AZ real estate license!
This was the best school by far. It has all things you need to learn for real estate. Jeff( the teacher) is quick to reply back with any questions you have and is overall a great teacher and is willing to help any student at any time. I highly recommend this school!
Would take many more classes. Made it verify fun.
Jeff is more than knowledgeable on AZ real estate rules. More importantly, he doesn't put you to sleep when he is teaching.
I recommend this school. Take the class in person because the instructor Jeff is an amazing teacher.
I passed my Real Estate Exam! I attribute my success to Jeff and his humor! He is a great teacher and I highly, highly recommend him!! He would always tell great stories to help you remember a topic. Jeff was on my shoulder during the exam, telling me what I needed to remember! The entire class could see that he truly cared about each student that was in the classroom! I completely and 100% recommend this school to anyone wanting to get started in Real Estate! 😄🤩
I came across this school while struggling to find extra help with passing the exam that the school I was attending did not offer. This school is a godsend and so was Jeff. I wish there were more teachers out there like him that actually made learning fun! He answered all of my questions and gave me the extra tools I needed to finally pass the exam.If you are thinking of going to other big real estate schools reconsider. This school gives you the personal attention and help that you need to be successful in this career. I wish I had found them sooner.Thanks!!Christy
I completed the online class through American Realty Academy. Any questions or concerns I had were quickly and efficiently answered. It was so nice to be able to go at a pace that worked for me and my busy schedule. The owner Jeffery Davis really cares about the success of his students, as well as making sure they understand the vast information that is covered. I took both the crash study course and the contract writing course with Jeff. I was blown away by how well he broke things down and made sense of confusing topics. A lot of times in life those who "can't" teach. Not the case at American Realty Academy, the owner/teacher Jeff is also a successful real estate broker. Don't hesitate to use American Realty Academy, as I am confident if you put in the work you will pass and actually learn and retain what you need to know. I just passed my state exam today on the FIRST try. Thanks again for all the help!
Awesome school! I earned my license from here last year and am doing great in real estate! So thankful for Jeff and his teaching!
Awesome class!! Jeff was amazing and very thorough!! It's his mission to prepare you for the state exam!! I'm ready!!
American Realty Academy takes a new and different approach to getting your real estate license. Instead of the same tired lectures, Jeff and his instructors share relevant real life experience that helps you understand the classes in a more personalized way. They even found a way to gamify portions of the instructions, making them easier to understand and fun to learn. I send my unlicensed applicats to him all the time and he has never let me down. Thanks Jeff and Steve for educating new realtors rather than just teaching them how to pass the test!!
Great teacher. If you don't learn real estate from him, you probably won't learn it at all...
Just finished my 90 hrs course, Jeff is just awesome, the way he explain is really clear and easy to understand all the information, very supportive, thanks Jeff you were very helpfull for me and please keep me up for the other courses that we talked about!! 😀
Excellent learning environment. Jeff is great teaching the essentials to pass the RE exam, but he also talks about interesting real life experiences. He is very supportive and if one person in the class has trouble with a topic, Jeff would not move on until everyone understands that topic. I really recommend this school.
Excellent learning environment. Jeff is great teaching the essentials to pass the RE exam, but he also talks about interesting real life experiences. He is very supportive and if one person in the class has trouble with a topic, Jeff would not move on until everyone understands that topic. I really recommend this school.
Amazing Instructor....Jeff !!!!!Class was fun and engaging.Jeff's work experiences relating to the classes topics were great and in some cases hilarious really brought you into the real life of real estate.Jeff has a special talent for keeping the class on track and does not let the class get distracted with other topics not related to the material at that time but always addresses other questions when that specific topic is being taught.Really amazing I will be taking any continuing education classes with him as well...Thank you Jeff... It was my pleasure taking your class and I am excited to start my new career in Real Estate so enthusiastically because of you
I have just finished my 90-hour at American Realty Academy. I love the fact that the Jeff has been very supportive along the way. I love the way he presents the materials. Not only i think he is an experienced broker, but also he is a great teacher. Thank you! I highly recommend this school to those who are considering getting your real estate pre-licensing training done.
I have just finished my 90-hour at American Realty Academy. I love the fact that the instructor/Broker, Jeff has been very supportive along the way. I love the way he presents the materials. Not only i think he is an experienced broker, but also he is a great teacher. Thank you! I highly recommend this school to those who are considering getting your real estate pre-licensing training done.
I just did the 6 hour contracts course. Great value - filled with solid practical information preparing you to deal with the whole range of paperwork you will be expected to master as an agent.
Great preparation for the exam. Jeff is a great instructor and gave each student, including myself, individual attention. If you want to learn the test and the real world of real estate, this is the place to go.
The small personalized classroom setting is ideal for anyone in the area seeking Real Estate licensing. The interactive approach, coupled with the instructors experience and ability to teach the material required is second to none. I have been in several industry related class room settings and ARA is significantly better at preparation than the other local options. I highly recommend American Realty Academy.
Small class size, fun instructor - made the experience much better than it could have been elsewhere! Highly recommend 👍
Nothing like learning from a teacher who actually does work in the field. His advice is worth listening and helpful to keep up with the business and find out your specialization.
An outstanding real estate school , I really appreciate Mr. Jeffrey for the wonderful program ,the teaching method encourages students to learn how to think critically.
First of all Jeff is an amazing instructor. I thoroughly enjoyed the class. He would make sure you understand the information before moving on instead of just covering what was required. He would go over real life insight so that we can be successful in real life not just to pass a test. I truly am grateful that this is the academy that I chose to get my real estate license through. I recommend going her 100%!!!
Jeffery is such a great instructor , I feel like I've learned/ understood the concept of real estate more here taking contract writing then I do at my school . Needless to say I highly recommend taking classes here or even just your contract writing! It's the best by far!
Excellent and extremely professional teaching.
Frequently Asked Questions
Do You Charge For The School Final Exam?
We do not charge for school final exam attempts in our Phoenix, AZ office. Should you test at an alternative school approved location, there may be fees involved with your testing provider. 
*As of September 1st, 2021, per state requirements, students will be required to take the school final exam in person in Phoenix, AZ or at a school approved alternative location.
What If I Fail The School Final Exam?
While rare, sometimes students do require additional study and testing. After failing the first attempt of the school final exam, the student will have the opportunity to self study and then make a second school final exam attempt. If the second school final exam is failed, then the student will receive a custom study plan from their instructor to address weak areas. At which point, a 3rd final exam will be given. Any further exam attempts will be at the discretion of school administrators.
How Soon Can I Finish?
State requirements restrict your learning to 10 hours per day. Meaning you could complete your training in 10 days.
How Long Do I Have To Finish?
Due to the ever changing nature of real estate and state requirements, we are always updating our material. With this in mind, we provide you with 6 months to complete the courses that you are enrolled in (including the school final exam).
Are The Classes Held On Specific Schedule?
With the exception of the Virtual Group Tutoring Course (live instructor/held once a month) all of our courses are 100% on demand. Meaning you take them at your own pace and on your own time schedule.
How Soon Can I Start?
You may start instantly as soon as you enroll, any day, any time!