Online Arizona Real Estate School
Instant enrollment | Start your training right away | Finish in as little as 14 days!
Start right away
Instant enrollment
Finish in as little as 14 days!
Save 30% on Arizona Silver & Gold Plans with coupon code: ARIZONA30 Expires 10/01/23 at 11:59pm AZ time
Basic Plan
$379
(Coupon Applies To Silver & Gold Plans)
90 Hr Online Salesperson Course
50% Off Continuing Education
Silver Plan

$579

$405.30

(With Coupon Code: ARIZONA30)
90 Hr Online Salesperson Course
50% Off Continuing Education
Additional Comprehension Checks
Bonus! Study Material Documents
Gold Plan

$679

$475.30

(With Coupon Code: ARIZONA30)
90 Hr Online Salesperson Course
50% Off Continuing Education
Pre-Recorded Tutoring Videos
Additional Comprehension Checks
Bonus! Study Material Documents
Bonus! Study Material Videos
**Live Virtual Group Tutoring
10 Steps To Passing Guide
Why pay another school more money to learn the same material?
Arizona based

| Fully approved by ADRE | Personal & full student support
Why pay another school more money to learn the same material?
Arizona based
Fully approved by ADRE
Personal student support
* Contract Writing Course: Our State required 6-Hour Contract Writing Course is 100% online and on demand.
** Live Virtual Group Tutoring: A live 3 hour group tutoring session with an active real estate instructor. Course includes major testing topics and plenty of time for live Q&A.
*** School Final Exam: Students must complete their school final exam in person at an Approved Testing Center
Join the
thousands of students

who have attended

American Realty Academy!
★★★★★ Great school, love everything about it ★★★★★ I was able to pass both the school's certification test and the state test on the first try, and I owe it to how good Jeff has laid out his courses and supplemental material. I highly recommend American Realty Academy! ★★★★★ Thank you for the help. I Highly recommend this school. 10 out of 10. ★★★★★ I'm so glad I found this school!Jeff and his team have provided such a wonderful program to help pass the real estate exam. They provide a lot of extra help, videos and support! It shows that they care!Thank you for a great experience! ★★★★★ If you're considering a career in real estate and wondering where to start, look no further!I passed my first attempt at the Pearson Vue today and I have Jeff and the American Realty Academy Team to thank for my success. I can't imagine a more comprehensive, clear and concise approach to a real estate education. Everything you need to know is perfectly carved out with precision and presented in a fun and easy format. When you have question, the team is swift to respond and get you whatever you need. I felt very supported and encouraged by the team every step of way, which speaks volumes for a remote, self-paced, online course.If you take your time absorbing the information and listen intently to Jeff's superb test-taking advice, there is no reason you can't pass your exam with ease as well!Thank you again American Realty Academy! ★★★★★ Highly recommended course for your real estate exams!!! I passed my school exam and state exam on my first try within a month. I am a mom of two little ones and this course made it EASY to pass the exams. The course was really easy to follow and the instructor, Jeff has a knack for teaching that makes the course engaging and memorable. Exceeded all my expectations. 10/10. ★★★★★ I'm so thankful I started this course. I went on to pass my state exam with confidence. Jeff Davis is an amazing instructor and he really cares about his students. His goal is for everyone to gain knowledge and pass the exams. He makes the entire course fun and easy to learn. Jeff includes MANY resources from printable test facts for every topic and live zoom classes once a month. You can also listen to pre-recorded zoom classes which also include useful information plus tips on how to test and pass the dreaded Pearson Vue. I honestly feel the videos were the biggest game changer for me. The math was also explained in a way that made it easy to memorize the steps and formulas. If you're serious about embarking in a Real Estate career, I highly recommend investing your money and time here. Here's to a successful career in Real Estate 🍷🥂 ★★★★★ Thank you Jeff for giving me the confidence to go and take the Arizona Real Estate Exam. I passed on my 1st attempt, which was today, just a week after passing the school exam. Truly grateful! ★★★★★ It was super easy to navigate and the instructor Jeff Davis really made it easy. It is a lot of information and all I did was follow the recommendations and things went smoothly. ★★★★★ With American Realty Academy I was able to pass my AZRE exam on the first try. I had the luxury to learn at my pace from the comfort of my home.The online classes are great and I got the most info out the many, many videos included as well as a huge amount of study materials offered.I'm so glad I chose American Realty Academy to get through my 90 hours of learning plus 6 hours contract writing course. It's only worth it if you can pass the exam and I received the knowledge I needed to pass. Well worth the money. ★★★★★ I feel very confident in giving 5 stars and highly recommending American Realty Academy. I researched a few different schools and kept coming back to American Realty Academy. It has been a long time since I was in a classroom setting and back to taking tests. However, Jeff's approach to leading a classroom/study session in an interactive way leads to knowledge retention and application not just memorization and regurgitation. The bonus materials, flash cards, videos of previous study sessions cement the topics and gives you the tools to pass the state exam. I passed the state exam on my first try and truly credit that to Jeff and American Realty Academy's on-line presentations and excellent tools for success. If you put in the time you will pass and be successful!! Thanks Jeff keep up the great work!! ★★★★★ I want to thank Jeff Davis for his knowledge, kindness, and encouragement. I passed the state real estate license test on the first try.The real estate course was structured very well. I liked the wrap up videos at the end of each module. The math was explained very well, and the explanations made me feel smarter than a fifth grader. :)As an addition to the course, Jeff recommended the CompuCram practice test to be familiar with the type of questions on the state exam. Those CompuCram questions and the state real estate license exam questions were based on the knowledge provided at American Realty Academy. There were no surprise questions or subjects. In summary, if you know the course material, passing the license exam will be no issue.Forever thankful,Alla ★★★★★ I very much recommend American Realty Academy to anyone who is looking for an opportunity to pursue their real estate license. As a 20 year old, I was very intimidated by the idea of pursuing this career. However, Jeff (super knowledgable and extremely helpful) and the team at American Realty Academy believed in me and assisted me in everything I needed to know; and of course responded/helped me whenever I needed it. It is a very straightforward and easy course to help understand the plethora of material needed to know for the exam; as it is very hard. Overall, I'm very pleased that I chose to school with American Realty Academy and loved the courses and the willingness of the instructors! Thank you so much for the help Jeff and the rest of the team 🙂 ★★★★★ Signed up for classes : November 15thPassed School Exam : December 1st (1st Try)Passed State Exam : December 7th (1st Try)Amazing course, I took this course online and followed the lesson plan exactly as it was instructed and it really prepared me to get it done as soon as possible. I can't say enough about how easy this course was. Thanks Mr. Davis and the American Realty Academy team. Honestly. Thank you. ★★★★★ I highly recommend American Realty Academy. The course was easy to navigate and there is a lot of resources within the course you just have to use them. Jeff and the admin staff are very helpful and responsive , they want you to pass. I'm confident that I made the right choice. ★★★★★ I recently attended a course at American Realty Academy and had an excellent experience. The instructor, Jeff, was extremely knowledgeable and helpful. He was able to provide real-world examples and tips that were extremely useful. He was also very patient and willing to answer any questions we had. The course material was well organized and easy to understand. Overall, I would highly recommend American Realty Academy and Jeff to anyone looking to get into real estate. ★★★★★ I highly recommend this course! Included is everything you need to succeed and more. The course was extremely interactive and structured very well. It still takes a lot of effort and dedication; as it should, considering you will be helping people with one of the biggest purchases of their life. Jeff and his team were very quick to respond and helpful. Again, thank you!
Whatever your reason is for starting online Arizona real estate school…
We're ready to help you succeed!
See How Our Learning System Works
Tour Our Online Salesperson Course
How online Arizona real estate school works
We're glad you're interested in getting your AZ Salesperson's License with us!
Here's how to get your real estate license in Arizona.
Complete all 90 hours of instruction online
*This course is self-paced and may be completed in as little as 9 days!
Complete the 6 hour Contract Writing Course
*This course is now offered as an online/self paced class and included with the Silver & Gold Plans.
Pass your school final exam (state required)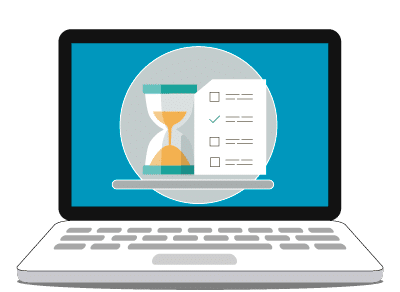 *Mimics the official test and acts as a gauge to determine your readiness. You will receive 2 attempts. If you do not pass, you will be issued a Comprehenisve Study Guide and a final 3rd exam attempt. This test must be taken at one of our Approved Testing Centers.
Pass The Pearson Vue® Real Estate Exam (Official Exam)
*This is the official exam and must be taken in person at an official testing location. You can find a list of testing locations on Pearson Vue's website.
Find A Brokerage to Work For
*Before you "activate" your license, you must have a designated broker in Arizona that will allow you to work under their brokerage. This is an Arizona law and is commonly referred to as "hanging your license". Simply put, all real estate agent salespersons must work for a broker. They cannot handle transactions legally without one. Therefore, the state wants you to make this arrangement and prove it prior to becoming an active agent.
With Arizona real estate booming, there is no shortage of brokerages to choose from!
Activate Your License With The Arizona Department Of Real Estate!
Finally, you will contact the Arizona Department Of Real Estate to activate your license!
* This is a simplified synopsis of the process to obtain your Arizona Real Estate Salesperson License. There are also certain eligibility and finger print requirements to become a real estate agent. You may view a complete list of requirements on ADRE's website.
Why choose American Realty Academy?
We think we're the best Real Estate School In Arizona and can't wait to prove it to you!
American Realty Academy is proud to host Arizona real estate license classes that don't just help you pass the test, but also prepare you for the real world or real estate. Our instructors are all active real estate brokers eager to share their past experiences (both good and bad) in Arizona real estate transactions. We want to make sure that no student feels left behind and no question goes unanswered. At American Realty Academy, you aren't just a number, you're our guest and our instructors, administrators, and owners look forward to getting to know you on a first-name basis. Learn more about How To Become A Real Estate Agent In Arizona.
We are a fully approved and accredited Arizona real estate school by the Arizona Department Of Real Estate. See for yourself by checking ADRE's website here https://services.azre.gov/publicdatabase/SearchSchools.aspx just search for "American Realty Academy"
ADRE School# S18-0001
Arizona Real Estate License Online FAQ
Can You Get Your Real Estate License In Arizona Online?
Yes, while Arizona took longer than most states, the statutes changed in 2019 to allow real estate training to be conducted 100% online. This was also extended to contract writing courses in 2021. The only in person requirement that still exists is for testing.
Do You Charge For The School Final Exam?
What If I Fail The School Final Exam?
While rare, sometimes students do require additional study and testing. After failing the first attempt of the school final exam, the student will have the opportunity to self study and then make a second school final exam attempt. If the second school final exam is failed, then the student will complete a Comprehensive Study Guide to address weak areas. At which point, a 3rd final exam will be given. Should the student fail the 3rd attempt, they will be required to retake the 90 hour course.
How Soon Can I Finish?
You may finish in as little as 14 days. Arizona Department Of Real Estate requirements restrict your learning to 10 hours per day. Meaning, you may complete your 90 hour Salesperson course and 6 hour CWC in as little as 10 days, followed by school & state testing, then license activation.
How Long Do I Have To Finish?
Due to the ever changing nature of real estate and state requirements, we are always updating our material. With this in mind, we provide you with 6 months to complete the courses that you are enrolled in (including the school final exam).
Are The Classes Held On A Specific Schedule?
With the exception of the optional Gold Plan – Virtual Group Tutoring Course (live instructor/held once a month) all of our real estate courses are 100% on demand. Meaning you take them at your own pace and on your own time schedule.
How Soon Can I Start?
You may start instantly as soon as you enroll, any day, any time!
Is Online Arizona Real Estate School Approved For Credit?