How To Become A Real Estate Agent In Arizona (2022)
How To Get Your Real Estate License In Arizona
General Requirements For Real Estate Salesperson
Last Update: December 16, 2021
Before we go over the process. Let's cover a few requirements that must be met in order to obtain a real estate license in Arizona for salesperson only. These items will be covered in our classes and do not necessarily need to be completed ahead of time. However it is a good idea to be aware of these requirements.  All applicants must:
Be at least 18 years of age
Obtain an Arizona Department of Public Safety (DPS) fingerprint card
Provide proof of legal presence to ADRE (using that link, scroll down to "Licensees" then see "Legal Presence"
Complete a Disciplinary Actions Disclosure (LI-214/244) and if needed, complete a Disclosure Document Checklist (LI-400)
How To Become A Real Estate Agent In Arizona:
Complete All 90 Hours Of Instruction Online
After determining that you do or will be able to meet all of the requirements to become an Arizona real estate agent. The 1st step is to select an accredited real estate school. Accreditation can be verified on ADRE's website. Here is a link to verify our school (American Realty Academy) but you can use it to verify other schools as well. An accredited school will provide you with the state required 90 hours of instruction. While our school only offers online courses, some do still offer live classroom experiences.
Complete The 6 Hour Contract Writing Course
ADRE further requires that students complete a 6 hour Contract Writing or Introduction To Contract Writing Course. In many cases, this can be completed 100% online/on demand. Read What Is The Arizona Contract Writing Course.
Pass Your School Exam (State Required)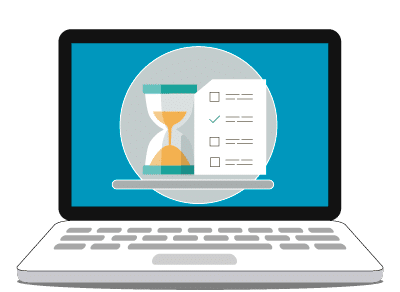 You must complete and pass a school administered exam. This exam acts as a "gateway" to the actual real estate salesperson exam administered by Pearson Vue.
Pass The Pearson Vue® Real Estate Exam (Official Exam)
Find A Brokerage to Work For
As a salesperson, as you will learn in class, you must work under a designated broker (DB). This DB must allow you to "hang your license" with them if you intend to work actively as a real estate salesperson in Arizona.
With Arizona real estate booming, there is no shortage of brokerages to choose from!
Activate Your License With The Arizona Department Of Real Estate!
Once all of this is complete, including the forms listed at the top of this page, your application is ready to be submitted to ADRE.
*As a note, the state requirements do change from time to time and we highly recommend you verify any information on this page with ADRE. Once you're ready to activate your license, see How to Apply for an AZ Real Estate Salesperson License.
How Long Does Real Estate School Take?
Real estate school can be completed in as little as 14 days. Some students are able to test immediately after that and if they find a brokerage to work for right away, they can be licensed in as little as 3 weeks!
However, many students will not be able to devote 8+ hours a day for several weeks straight and instead choose to study in the evenings or on weekend. These students will normally complete their entire licensing process in approximately 6 weeks.
Finally, most schools will give you at least 6 months to complete their training, with the option to extend for a fee. In some cases, students choose to take the entire 6 months to complete their training and that is completely acceptable. In those cases though, we do recommend joining a virtual study group at the 3 month mark and again before final testing to ensure that you retain knowledge from the entire period.
That is one of the advantages of taking a self-paced online course. Because when "life happens", having the flexibility to simply alter your study time lines can make all of the difference.
How Much Does An AZ Real Estate License Cost?
The real estate license cost in Arizona is broken into two parts; government fees and school fees. For this article we will cover these items in regard to initial issuance of a real estate salesperson license only (not a broker, renewal, etc).
As a note, all fees are current at the time of this article's writing and may have changed since. Here we cover to the best of our knowledge, the cost of a typical real estate license in Arizona. Exceptions do always exist and the cost may far exceed these numbers.  Please confirm the fees with the appropriate agencies.  We've included some links in this article to help you out.
State Fees To Obtain An Arizona Real Estate License
Pearson VUE Testing Examination Fee: $75
State Original License Fee: $50
State Real Estate Recovery Fee: $10
Arizona Department Of Public Safety Finger Print Clearance Card Fee: $67
Total Government Fees: $202
3School Cost
Real estate schools normally charge for your:
90 Hour Pre-License Course
School Exam Fee
Contract Writing Course
The fees charged are entirely up to the real estate school. It would be far too time consuming to cover every real estate school in Arizona in this article so we will use us (American Realty Academy) as the example.
Total Cost Of Real Estate School In Arizona
90 Hour Pre-License Course: $379 (our price)
School Exam Fee: $0 per attempt
Contract Writing Course: $49
Total School Cost: $428
Given our example above, the total cost to go from day one of school to licensed real estate agent would be: $202+ $428 = $630
We encourage you to shop around and examine not just pricing but classroom size and instructional quality before making a decision. However, please take the time to compare us to the competition.
We Are The Alternative To Overcrowded Real Estate Schools In Arizona.
American Realty Academy is proud to host Arizona real estate license classes that don't just help you pass the test, but also prepare you for the real world or real estate. Our instructors are all active real estate brokers eager to share their past experiences (both good and bad) in Arizona real estate transactions. We want to make sure that no student feels left behind and no question goes unanswered. At American Realty Academy, you aren't just a number, you're our guest and our instructors, administrators, and owners look forward to getting to know you on a first-name basis.
If you are transferring as an agent from out of state, be sure to read about the transfer process here.
Ready To Start Your Arizona Real Estate License Classes?
Note: This is a simplified synopsis of the process to obtain your Arizona Real Estate Salesperson License. There are also certain eligibility and finger print requirements to become a real estate agent. You may view a complete list of requirements on ADRE's website.